The Camper Cams Series 02 Model is a 12V DC powered camera. This means it has two sources (or lines), one for 18/2 power line into a distributor box and one for Data via a CAT5 ethernet line into a network switch.
Step 1: Power Box Reset
Locate the wall-mounted Power Distribution Box - make sure it is connected to a power source.
Check the Powerbox fuses to make sure a fuse has not blown (all should be lit up).
Via an ON/OFF switch, power down your distributor box for 15 seconds, then power it back on.
Step 2: Network Switch Reset
Locate your system's ethernet switch near the power box - make sure it is connected to a power source (all lights should be blinking in Synchronization).
Identify a port on the switch for a NON-Blinking light or a light that is out of SYNC - Unplug the CAT5 connection and replug it in.
Step 3: Reset Camera Connections
Un-Plug the power pigtail and the CAT5 tip from behind the camera. Re-insert the CAT connection first, then power after 10 seconds.
DO NOT USE THE RESET BUTTON UNTIL YOU CONTACT Camper Cams Support.

CLICK HERE

to reference or contact information and support availability.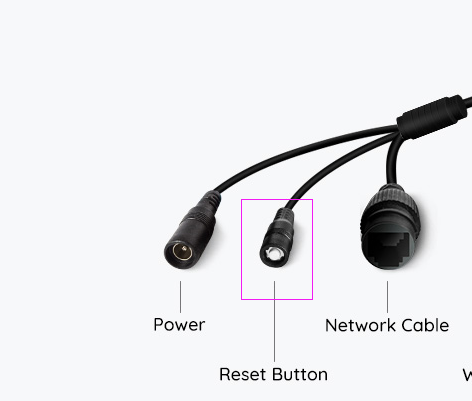 *Once all of these steps are completed, and if your camera has still not re-established a connection to your network and is being seen in your video management software, our team will begin working to provide you a replacement estimate or process your extended warranty replacement.